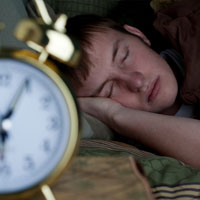 If you're a parent of an adolescent child, chances are you've wondered why it's so difficult to get him or her out of bed in the morning. The answer is that many teenagers are suffering from chronic insufficient sleep due to schedules jam-packed with homework, extra-curricular activities and sports. To avoid this, experts at Goryeb Children's Hospital recommend that parents work with their children to prioritize sleep and make adjustments to their nighttime routine. These can be as simple as avoiding caffeinated drinks late in the day, putting away electronic devices at night and keeping to a regular bedtime. For additional assistance, consult the specialists at our pediatric sleep disorder center >
Sleep Disorders and Kids Programs and Screenings


Education and prevention can keep you and your loved ones healthy. We invite you to take advantage of the programs, support groups and screenings available. Unless otherwise noted, to register for any of these programs call 1-800-247-9580 Monday through Thursday between 8:30am to 8:00pm and Friday between 8:30am and 4:30pm, or sign-up online at Atlantic Health System's classes and events registration; all programs are free unless a fee is indicated.

Chambers Center for Well Being
The Chambers Center for Well Being can help you develop a personal plan for a healthier lifestyle. Through lectures, classes and therapeutic services, we'll show you how stress management, proper dietary balance and increased exercise can improve your overall well-being – mind, body and spirit. View a full list of classes, services and related fees or call 973-971-6301.