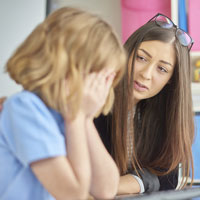 Although we've learned much about bullying in the 20 years since the Columbine school shooting, addressing this problem remains a challenge because most victims don't tell their parents or teachers. Atlantic Health System's bullying expert, Stuart Green says that additional progress can be made if educators prioritize school climate, do more to support the most vulnerable children and ensure that every student is well known by at least one staff member. When educators are aware of the social and emotional status of the students in their care, they are better able to support them and prevent abuse. Ideally, schools will address the underlying conditions that give rise to bullying in addition to responding swiftly to incidents that occur. Read more of a recent Q&A with our expert >
Mental Health and Kids Programs and Screenings
Education and prevention can keep you and your loved ones healthy. We invite you to take advantage of the programs, support groups and screenings available.

Parent Support Group for Autism Spectrum Disorder
Parents can receive emotional support and learn how to cope with the challenges of raising a child with autism. The group is professionally led by a licensed psychotherapist.
First Thursday of every month, 11:00am
Child Development and Autism Center
Morristown Medical Center Outpatient Medicine, Suite 250
435 South Street, Morristown, NJ
For more information and to register, please call 973-971-8906.
Mental Health and Kids Articles