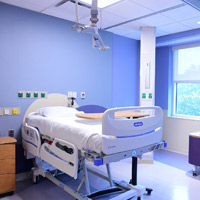 Goryeb Children's Hospital's newly renovated Joan and Edward Foley Pediatric Intensive Care Unit offers advanced care and family-friendly amenities. The upgrades, which were partially funded by donations to the Foundation for Morristown Medical Center, doubled the size of the existing PICU and added six additional beds, so we can accommodate more patients. Diagnostic imaging is also easily accessible and we use the latest technology to provide rapid test results. Additionally, all patient rooms are private and have gaming consoles, sleeping arrangements for parents, and separate bathrooms and showers.
Read more >
Pre-Teen and Teen Health Programs and Screenings
Education and prevention can keep you and your loved ones healthy. We invite you to take advantage of the programs, support groups and screenings available.

Concussion Support Group
Student athletes who have had a concussion are invited with their parents to share experiences and learn how concussions can affect cognitive function.
Fourth Tuesday of every month, 7:00 to 8:00pm
Overlook Medical Center, 5th Floor, Conference Room 1
For more information and to register, please call 1-800-247-9580.

Hydrocephalus Support Group
This group provides educational information, guidance and support for children and adults with hydrocephalus and shunts.
Morristown Medical Center, Auditorium B
For more information, schedules and to register, please call 973-326-9000.

Pediatric Neuro-oncology Clinic
Pediatric neurospecialists and oncologists provide services at this clinic.
Second Friday of each month, 9:00am to Noon
Goryeb Children's Hospital, Center for Advanced Medicine in Pediatrics (CAMP)
Farris Family Building, 3rd floor
For more information and to schedule an appointment, please call 973-971-8585.
Pre-Teen and Teen Health Articles