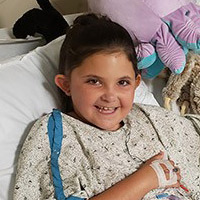 Sofia was frightened when doctors diagnosed her daughter, Gianna, with a form of epilepsy caused by a brain tumor. Goryeb Children's Hospital, however, gave her much needed hope. Using a high-tech monitoring system, our specialists determined that Gianna's seizures were not coming from areas of the brain that controlled vital functions, which made her a good candidate for surgery. Gianna is now seizure-free thanks to the operation and according to her surgeon, has a very good chance of staying that way for the rest of her life. Read more of her story >
Elementary Health Programs and Screenings
Education and prevention can keep you and your loved ones healthy. We invite you to take advantage of the programs, support groups and screenings available.

Pediatric Neuro-oncology Clinic
Pediatric neurospecialists and oncologists provide services at this clinic.
Second Friday of each month, 9:00am to Noon
Goryeb Children's Hospital, Center for Advanced Medicine in Pediatrics (CAMP)
Farris Family Building, 3rd floor
For more information and to schedule an appointment, please call 973-971-8585.

Elementary Health Articles