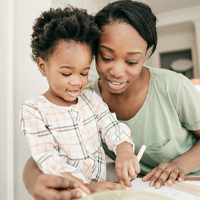 Speech and motor delays are common in children, but how can you tell if your little one has a developmental problem or is just a late bloomer? Atlantic Health System's pediatric rehabilitation specialist says there are general guidelines you can follow. Babies should be able to roll from back to front at six months, sit up at eight months and say three or four words at one year. With older kids, look for poor speech articulation, trouble getting dressed or difficulty keeping up with other kids athletically. Read more of the interview with our expert, who explains developmental delays and how pediatric rehabilitation can help.
Elementary Health Programs and Screenings
Education and prevention can keep you and your loved ones healthy. We invite you to take advantage of the programs, support groups and screenings available.

"Creative Expressions" 2020 Calendar Art Contest
Goryeb Children's Hospital invites children ages 4 through 18 who have chronic illness or pain to submit original artwork for inclusion in our 2020 Arts and Healing calendar. This year's theme is "What is in Your Heart?" All submissions must be received by October 15, 2019.
View full contest details >

Pediatric Neuro-Oncology Clinic
Pediatric neurospecialists and oncologists provide services at this clinic.
Second Friday of each month, 9:00am to Noon
Goryeb Children's Hospital, Center for Advanced Medicine in Pediatrics (CAMP)
Farris Family Building, 3rd floor
For more information and to schedule an appointment, please call 973-971-8585.
Elementary Health Articles