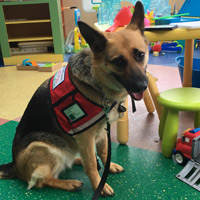 Dogs and humans have been companions for centuries, but we've only just recently begun to understand the therapeutic properties of this timeless bond. A nurse research team at Atlantic Health System found that hospitalized children who interacted with dogs in our Soothing Paws Pet Therapy Program had a significant decrease in their anxiety levels. The study looked at 93 children from ages six to 17 in two different groups – one that received a visit from a therapy dog and a control group that did not. Read more about our findings >
Toddler/Preschool Health Programs and Screenings
Education and prevention can keep you and your loved ones healthy. We invite you to take advantage of the programs, support groups and screenings available. Unless otherwise noted, for more information, fees, class locations, and to register for Parent Education programs at Overlook Medical Center, please call 908-522-2946; for Parent Education programs at Morristown Medical Center, please call 973-971-5027. View calendars with a full list of programs offered at Morristown Medical Center and Overlook Medical Center.
7th Annual Action for Distraction Family Fun 5K
Support Goryeb Children's Hospital and pediatric bone health research by participating in either a timed 5K run or a 5K run/walk to. Both courses are USATF certified and those who enter may dress up as their favorite Star Wars character.
Fee: $30
Saturday, May 4; 9:00am (timed 5K); 11:00am (fun 5K)
Loantaka Brook Reservation, Kitchell Road, Morristown, NJ
Learn more and register >

Hydrocephalus Support Group
This group provides educational information, guidance and support for children and adults with hydrocephalus and shunts.
Morristown Medical Center, Auditorium B
For more information, schedules and to register, please call 973-326-9000.

Spasticity and Gait Disorders Clinic
Children with spasticity and gait disorders and their parents can meet with a team of specialists from Goryeb Children's Hospital. Appointments are required for both consultations and treatment.
First Friday of every month
Goryeb Children's Hospital, Center for Advanced Medicine in Pediatrics (CAMP)
Farris Family Building, 3rd floor
For more information and to schedule an appointment, please call 973-971-5901.
Toddler/Preschool Health Articles