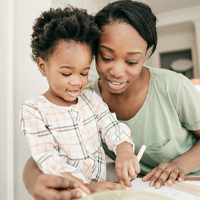 Speech and motor delays are common in children, but how can you tell if your little one has a developmental problem or is just a late bloomer? Atlantic Health System's pediatric rehabilitation specialist says there are general guidelines you can follow. Babies should be able to roll from back to front at six months, sit up at eight months and say three or four words at one year. With older kids, look for poor speech articulation, trouble getting dressed or difficulty keeping up with other kids athletically. Read more of the interview with our expert, who explains developmental delays and how pediatric rehabilitation can help.
Toddler/Preschool Health Programs and Screenings
Education and prevention can keep you and your loved ones healthy. We invite you to take advantage of the programs, support groups and screenings available. Unless otherwise noted, for more information, fees, class locations, and to register for Parent Education programs at Overlook Medical Center, please call 908-522-2946; for Parent Education programs at Morristown Medical Center, please call 973-971-5027. View calendars with a full list of programs offered at Morristown Medical Center and Overlook Medical Center.
Hydrocephalus Support Group
This group provides educational information, guidance and support for children and adults with hydrocephalus and shunts.
Morristown Medical Center, Auditorium B
For more information, schedules and to register, please call 973-326-9000.

Spasticity and Gait Disorders Clinic
Children with spasticity and gait disorders and their parents can meet with a team of specialists from Goryeb Children's Hospital. Appointments are required for both consultations and treatment.
First Friday of every month
Goryeb Children's Hospital, Center for Advanced Medicine in Pediatrics (CAMP)
Farris Family Building, 3rd floor
For more information and to schedule an appointment, please call 973-971-5901.
Toddler/Preschool Health Articles