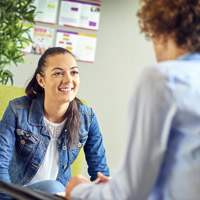 A new study conducted by Goryeb Children's Hospital's BD Diabetes Center found that uncontrolled diabetes in adolescents may lead to feelings of failure and frustration among patients, parents and providers. If not communicated effectively, these emotions can cause conflict, frayed relationships and poor disease management. BD Diabetes Center researchers emphasized in their published report that care teams should focus less on blood sugar numbers and more on encouraging all parties to constructively express any negative feelings they might have about diabetes. Doing so increases the likelihood that adolescent patients will follow their prescribed medical regimen, resulting in improved control of their disease. Read the full study >
Chronic Illness Programs and Screenings
Education and prevention can keep you and your loved ones healthy. We invite you to take advantage of the programs, support groups and screenings available.
Caregivers Coalitions
Caregivers of seniors, adults and children with disabilities or mental illnesses will receive education, support and access to resources to sustain them in their care-giving role. Sponsored by the United Way of Northern New Jersey; registration is not required.

Morris County Caregiver Coalition
Second Wednesday of every month, 9:00 to 11:00am
Ukranian American Cultural Center, 60 North Jefferson Road, Whippany, NJ
For more information, call 973-993-1160.

Somerset County Caregiver Coalition
Second Thursday of every month, 9:00 to 11:00am
Shimon & Sara Birnbaum JCC, 775 Talamini Road, Bridgewater, NJ
For more information, call 908-253-6534.

Pediatric Cardiology Parent Support Group
Families with children up to four years old with heart conditions can meet to discuss family life and coping mechanisms. Registration is not required.
First Monday of every month, 6:30 to 7:30pm
Goryeb Children's Hospital at Morristown Medical Center, 2nd Floor Conference Room
For more information, please call 973-971-8689.